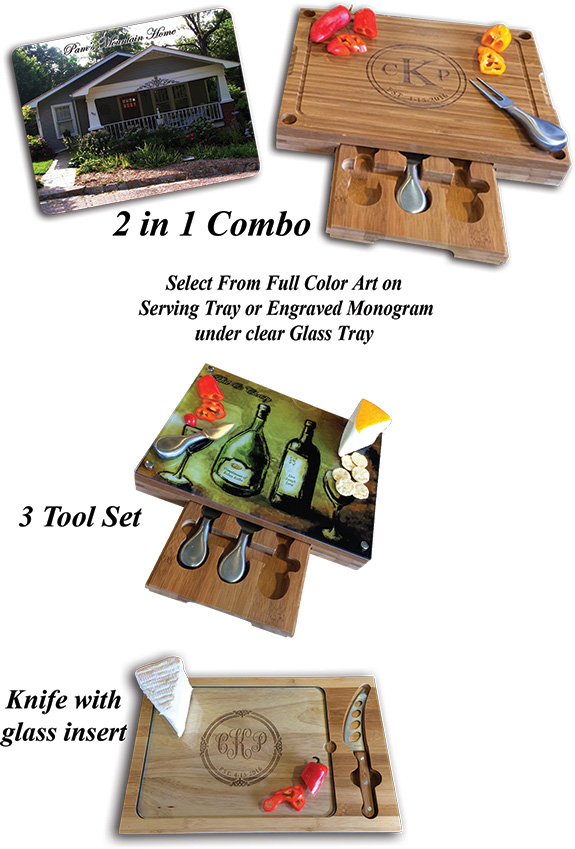 Perfect for any new Home!
Great Gift for Buyer or Seller
It's Personal - Come enjoy our beautiful line of personalized Bamboo Cutting Boards with glass serving trays. A one of a kind product that provides a 2 for 1 useful gift. Each tempered glass serving tray can have any one our 20 unique Home Décor designs or YOUR CUSTOM PHOTO permanently embossed on the reverse side. Or, you can choose a clear tempered glass serving tray and have a beautiful laser etched monogram engraved into the bamboo board. No matter which beautiful gift you choose you can "personalize" our useful gifts with your clients name. In addition, each unique artwork designs offers our unique "soft spot" that creatively displays your "personalized" marketing message and signature line.
Remember, by making it "PERSONAL" you are giving a gift that lasts a lifetime.
It's Practical - The PCG Home Decor Bamboo Cutting Boards with glass serving trays serve as 2 useful gifts, one as a cutting board and the other as a beautiful serving tray. This exciting gift keeps your name in front of your client. Different from the consumable gift, the beautiful PCG Home Decor line is durable, long lasting, and useful. Glass Serving Trays are made from Tempered Glass and 100% dishwasher safe, while the Bamboo Cutting Boards come in to styles with food utencils. Your "personalized" gift is perfect for any homeowner, business client, or friend.
It's Affordable - The PCG Home Decor Bamboo Cutting Boards with glass serving trays are as low as $49.95 for the Single Knife with glass insert tray, while the Bamboo with 3 tool set is $74.95 at the 50 unit price.
Imagine, a "personalized" gift that provides unlimited shelf life as a reminder of your fantastic service.
All Custom Products ship in 5-7 business days.
California Companies please add 8% Sales Tax.
Shipping/Handling charges are paid online at time of product redemption.