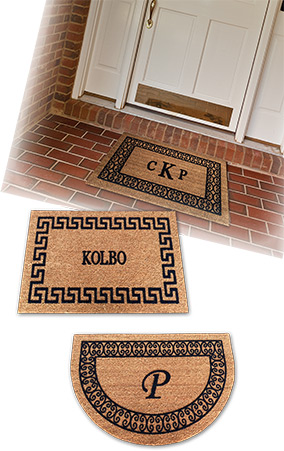 Perfect for any new Home!
Great Gift for Buyer or Seller
It's Personal - Come enjoy our beautiful line of Made in the USA personalized Welcome Home Door Mats. These monogramed mats are a fantastic gift for anyone who owns a home, apartment or condo. Our three styles of monograms create a sense of pride in the ownership of any new home, while the unique usefulness reminds your clients of you and your fantastic service.
It's Practical - The Perfect Closing Gift (PCG) Welcome Mats keep your name in front of your client for the long term. Different from the consumable gift that is used and forgotten, the stylish Welcome Mats are made from eco-friendly Natural Coir (coconut) fibers. Sewn together to produce a beautiful knitted appearance, these coconut strands are embedded in a vinyl backing. This backing holds the coconut fibers firmly in place and allows for a great scraping and brushing action.
It's Affordable - The PCG Welcome Door Mat Collection starts as low as $44.95 (at a quantity of 50). You can select from our "Charleston" or "Greek Key" border style along with 3 unique monogram styles; last name, 3 letter, and single letter. You also get a choice of rectangle or half round shape. In addition, we offer a generous Welcome Mat size of 24" X 36".