Benefits of The Perfect Closing Gift
The greatest benefit of the PCG Home Décor Collection of Italian Marble with Acacia Wood cheese board or coaster sets is your ability to obtain long term marketing exposure. The PCG Home Décor collection provides your client with a useful, personalized gift that keeps your name and contact information in front of your client on a regular basis. Moreover, because the marketing is subtle, this gorgeous, kitchen décor board will stay out on the client's counter when it is not in use (not in a drawer). That means you have the opportunity to market to the client AND their friends and family. The combination of a beautiful, useful and personalized gift maximizes the return on your marketing dollars for many years.
The Italian Marble with Acacia Wood cheese board or coaster sets are a one of a kind product that looks fantastic in any kitchen. The beautiful combination of materials is sure to be a hit in every home. The main piece of the serving tray is finished marble from Italy, while the end of the board is a naturally sustainable acacia wood. In addition, we take extra care to laser etch personalized monograms on 1 side of the board and your custom message and signature line on the other.
Remember, by making it "PERSONAL" and "USEFULL" you are giving a gift that lasts a lifetime.
Why The Perfect Closing Gift?
The success of a closing or thank you gift is based on how often a client looks at, uses, or remembers who gave the item to them. The PCG Home Decor Italian Marble with Acacia Wood cheese board or coaster sets fulfill all three of these requirements. First, they are used in the most important rooms of any house, the kitchen and family room. Second, the Home Decor line is 100 % useful and can be used in everyday food serving. Finally, the "Personalization" of your client's name along with your Thank You message always reminds them of who you are and the service you have provided for them. Remember, flowers wilt, wine is consumed, and gift cards are spent; but, The Perfect Closing Gift will be there at your client's fingertips day after day after day.
Your "personalized" gift is perfect for any homeowner, business client, or friend.
How is the Perfect Closing Gift Personalized for You....And Your Customer?
Personalized for Your Customer: The Italian Marble with Acacia Wood Cheese Board or Coaster Sets allows you to distinctively add your client's name to any of our 6 monogram designs. If desired, you can change information such as established date to an anniversary date or address.
And You: The PCG Marble and Wood Cheese boards have a special location on the back of each cheese board or coaster set that creatively displays your custom message and signature line.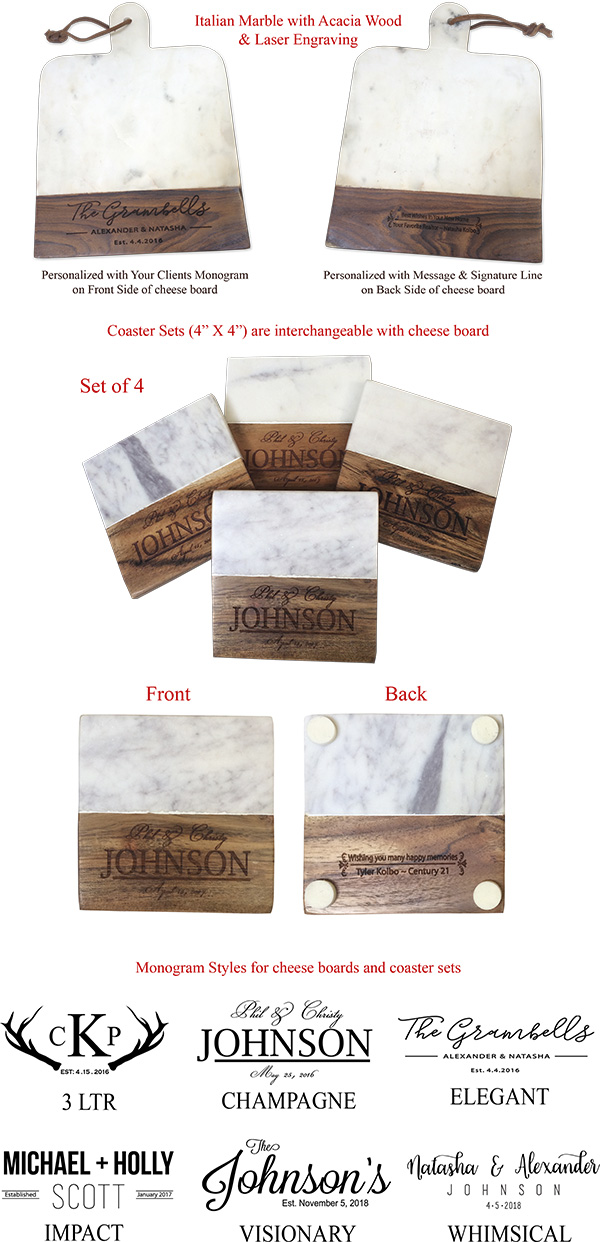 What is Charter Membership and How do I order my cutting boards or coasters ONLINE - One unit at a time?
The "Charter Membership" is your online order page that allows you to redeem your inventoried Italian Marble with Acacia Wood cheese board or coaster sets one at a time. Your online order page is accessed with your personalized Username & Password via our PCG web site. Your custom online order page lets you customize any one of our trendy monogram designs with your client's name and your personalized message and signature line. In addition, you can check your inventory quantity, track past orders, and select where you want the cutting boards or coasters shipped. Customized gifts can be sent to you or direct to your client.
Perfect Closing Gift Pricing
| | | | | | |
| --- | --- | --- | --- | --- | --- |
| Qty: | 5 | 10 | 20 | 30 | 50 |
| Unit Price: | $64.95 | $59.95 | $56.75 | $53.50 | $50.25 |
| Total Due: | $324.75 | $599.50 | $1135.00 | $1605.00 | $2512.50 |
California residents need to add 7.75% sales tax.
Shipping Costs are paid each time you redeem your Cutting Board. (What's This?)
Frequently asked questions:
What is Charter Membership - "Charter Membership" grants you access to your online order page. Your order page is Username & Password protected and allows you to redeem your inventoried Perfect Closing Gift products one at a time. You can also track inventory and review order history.
How long is my inventory good for?
The initial purchase of any PCG product has an inventory life of 18 months from the date of payment. An Inventory Maintenance Fee (IMF) will be charged to reactivate your account for any unused inventory after the initial 18 month period. If you opt to reactivate your account and extend the life of your inventory the Inventory Maintenance Fee is $25.00 per year. $25.00 will be charged for every year that the inventory remains idle. If you add any additional closing gifts to your account, the 18 month inventory expiration we restart on the date of the new transaction. Inventory Maintenance Fee is subject to change without notice.
Do we offer bulk shipping?
No. Due to UPS's way of calculating shipping price, there is little to no financial benefit to grouping items together in one package. (Read More)