Coir Doormats
Help your client welcome their friends and family to their new home with a beautiful custom welcome mat! Our classically inspired coir door mat knows how to make an entrance and keep the foyer clean. Each mat has a rich, handsome appearance with durability and cleaning power that can be used year-round. Available in 6 styles, this unique, distinctive finish for your client's home will surely make an impression.
Coir Doormat Information
Manufactured in the USA from durable dense natural coir fiber bristles, these mats are made to help scrape shoes clean with lasting endurance. Each fiber is inserted into an all-weather vinyl backing to increase durability and help prevent shifting and movement. To ensure a long- lasting product, the personalization on the mat is flocked instead of painted to resist fading. These mats are stain, rot and mildew resistant, weather tolerant and can absorb moisture.
Dimensions: 24"H x 36"W x 5/8" thick
Engraving Styles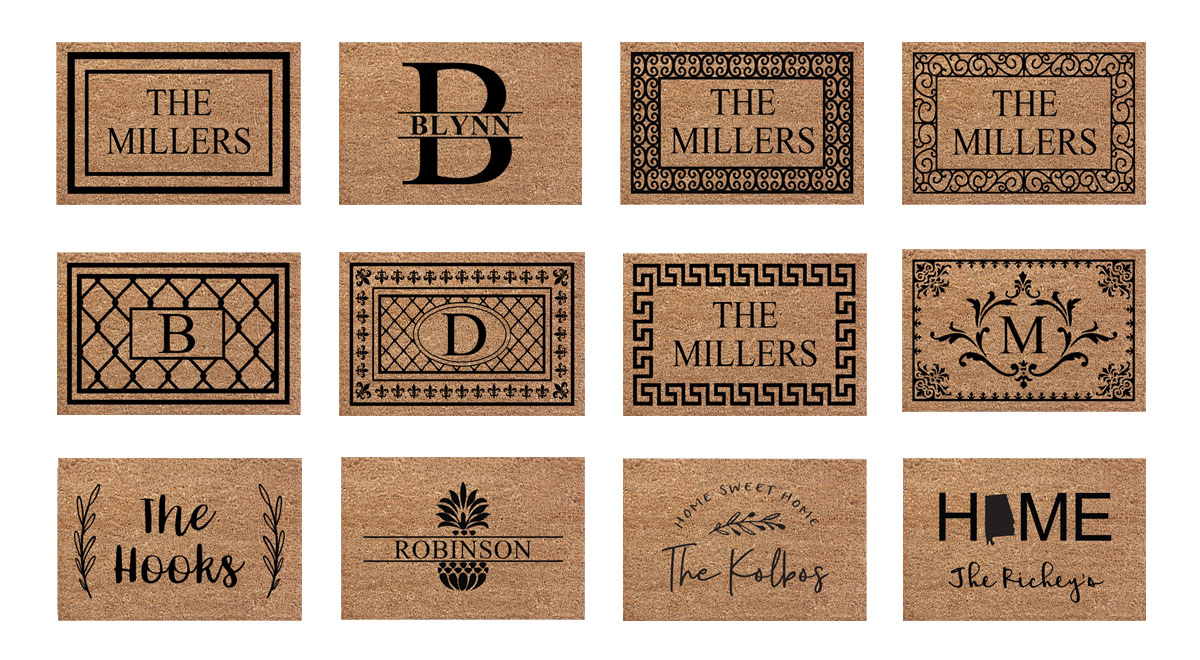 Care and Usage
1. Shake out heavy debris outside
2. Use a stiff bristle brush and water to scrub away any stubborn dirt, mud, or stains
3. DO NOT rise with a hose. Keep mat in a dry place to avoid heavy water. Large amounts of water will destroy the natural fibers.
PLEASE NOTE: Each doormats is made with natural fibers that vary in color. No single mat is identical to another. Some are lighter, some are darker, and some have markings of both. Mat's may have bits of husk while others will not. Each mat has its own imperfections that make it unique.