Glass Cutting Boards & Marble Coasters
Give your client the ultimate personal and practical gift with our unique Tempered Glass Cutting Boards. Upload a custom photo of your client's home or choose from one of our 30+ designs. These exclusive cutting boards come in a large and small size to fit every size and style of kitchen. Our cutting boards are antibacterial, shatter resistant and can be used with all food types. Cut vegetables, shrimp or beef then toss the board into the dishwasher for safe, easy clean up. When they're not busy preparing the daily meal, these beautiful cutting boards will be displayed as kitchen décor, not put away in a drawer. With your subtle marketing included in each gift, you'll be in front of every friend and family member that enters the kitchen for years. Perfect for referrals!
*Bonus Feature*: When ordering our Large Glass Cutting boards you have the option to personalize a set of 4 tumbled marble coasters instead. The matching set of coasters is the ideal Thank You gift for your client that just sent you a referral.
Glass Cutting Board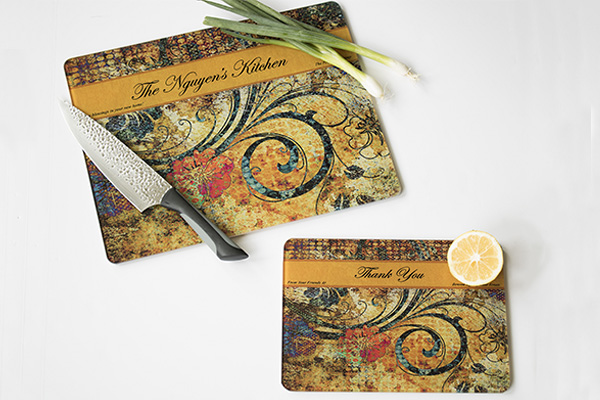 These tempered glass cutting boards are incredibly durable! We permanently imprint the image on the back of the cutting board to protect it from your knife. This image is visible through the glass. Your image will not peel or scratch. In addition, our boards are shatter resistant, dishwasher safe and antibacterial. Each board is equipped with 4 feet on the back to protect your table or counter top.
Large Cutting Board Dimensions: 12"x15"
Weight: 2 lb. 14 oz
Interchangeable with a set of 4 tumbled marble coasters
Small Cutting Board Dimensions: 8"x10"
Weight: 1 lb. 4 oz
Tumbled Marble Coaster Set
A set of coasters is comprised of four 4" x 4" coasters. Each one is personalized with your client's name on the front and your name and signature line on the back. In addition, each coaster also comes with: Welcome, Enjoy, Cheers or Bon appetite. You can choose from any of the our 30+ cutting board designs. Or, you can upload your own custom photo. They are equipped with 4 feet on the back to protect your table or counter top. In addition, a set of coasters is interchangeable for one large cutting board. To clean your coasters, use warm soapy water and the soft side of a sponge. Coasters should not be placed in the dishwasher.
Set of Coaster Dimensions: 4"x4"
Weight: 2 lb. 6 oz
Interchangeable with 1 Large Cutting Board