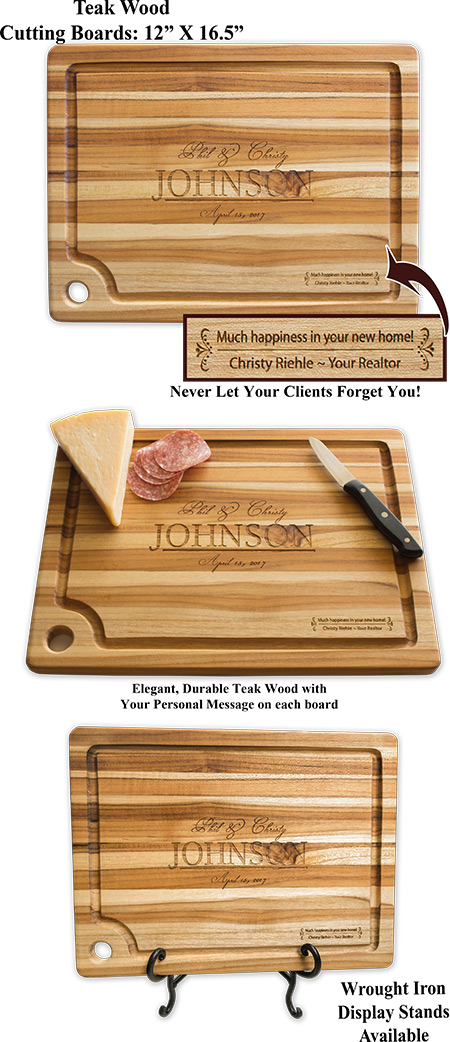 Perfect for any new Home!
Great Gift for Buyer or Seller
It's Personal - Enjoy our beautiful line of personalized Teak Cutting Boards. Each Teak Cutting Board is a one of a kind product that looks extraordinary in every kitchen. The rich wood grain is not only good-looking; but it is also durable. We laser engrave your individualized monogram on the font of each board. And, we engrave your custom name and on either the font or back of each board (your preference).
Remember, by making it "PERSONAL" you are giving a gift that lasts a lifetime.
It's Practical - The PCG Home Décor Teak Cutting Boards serves as two useful gifts. Each gift is a functional cutting board. And, it is an attractive home décor element. This exciting gift keeps your name in front of your client on a daily basis. And, the marketing is subtle. This gorgeous, kitchen décor item will stay out on the client's counter when it is not in use - it won't be put away in a drawer! That means you have the opportunity to market to the client AND their friends and family.
Different from a consumable gift, the stunning PCG Home Decor line is durable, long lasting, and useful. The Teak Cutting Board has handsome natural grain, giving a warm, rich touch to any home.
Your custom-made gift is perfect for any homeowner, business client, or friend.
It's Affordable - The PCG Home Décor Teak Cutting Boards are as low as $51.55 at the 50 unit price. This includes a tailored monogram design with your client's information on the front of each board. In addition, we also include your marketing message and signature line. Give this gift with a Wrought Iron Display stand (sold separately) and you will be in front of every person that comes into that new home.
Imagine a personalized gift that provides unlimited shelf life providing a consistent reminder of your excellent service.
All Custom Products ship in 5-7 business days.
California Companies please add 7.75% Sales Tax.
Shipping/Handling charges are paid online at time of product redemption.